WITH MORE THAN 3 BILLION SOCIAL MEDIA USERS ONLINE, WHY SHOULD YOUR MARKETING STRATEGY NOT INCLUDE SOCIAL MEDIA?
Businesses are getting more associated with Social Media today. It doesn't matter whether you own a small, medium or large enterprise. More than 3 billion users online on a daily basis use social media for entertainment, knowledge gaining & sharing, purchasing & selling, and multiple other things.
Are you harnessing the power of social media to boost your business marketing strategy?
Facebook has more than a billion people connecting to it; Snapchat, LinkedIn, Instagram, Pinterest, Twitter, Google+ and innumerable other social media platforms are being daily surfed by online users! Internet Marketing Agency is the one-stop solution to enhance your business's social media presence and convert your business into a brand entity.
Social Media can help you in many ways such as:
Engagement with Customers with 1-to-1 Conversations
Provide Prompt Customer Service
Selective Offers & Discounts to Your Online Audience
Interactive Content Contributions with Visitors
Bring a Human Touch to the Organization
GET A FREE SPOT-ON SOCIAL MEDIA CHECK UP TODAY
Get a Detailed Assessment of your Social Media Profiles along with Custom
Strategies on how to take them to the next level.
BE SEEN MORE ON SOCIAL MEDIA!
Get interactive, communicative and connect with your target clientele through Internet Marketing Agency's social media solutions. Read about the pointers given below:
Social Media Platforms
The Platforms We Love Using Everyday.
GET SOCIAL MEDIA RIGHT WITH OUR BEST IN CLASS
SOCIAL MEDIA SOLUTIONS
Why Social Media Matters?
The following industry statistics will help emphasize why social media is important.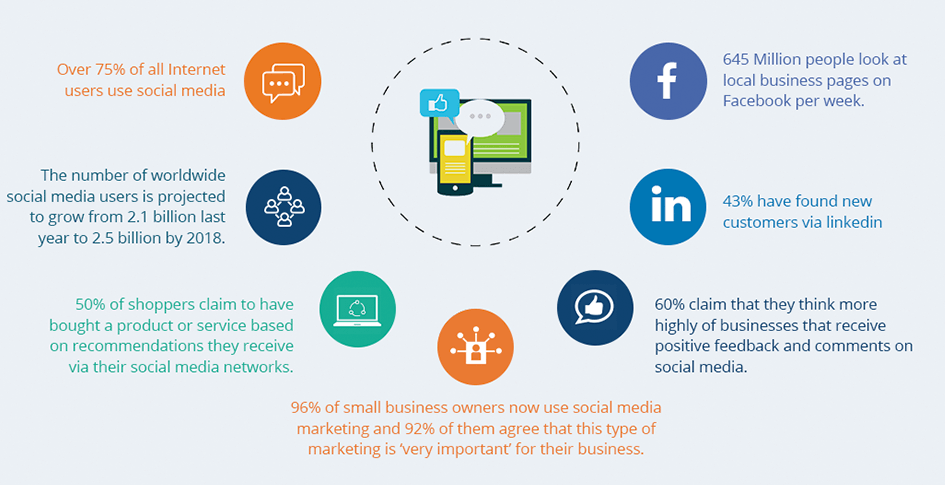 WHY OUTSOURCE SOCIAL MEDIA MANAGEMENT TO INDIA?
Outsourcing social media management offers ample opportunities to generate quality leads online besides staying connected with existing customers. The management of multiple social channels becomes easier when the social media marketing is outsourced to a top SMO firm in India. With proven track record of handling a wide range of outsourced SMO and SMM projects, the Indian SMO agencies guarantee maximum online visibility of brand at a cost lower than conventional marketing plans.
India, as one of the top outsourcing destinations has always delivered results to offshore clients from European countries like the USA, UK, Australia, Canada, etc. Companies abroad outsource to well-recognized Indian SMO companies with dedicated SMM and SMO consultants capable of working out exclusive promotion campaigns for top social channels like LinkedIn, Facebook, Twitter, Youtube, etc. In order to stand out in international competition, Firms in India offering offshore SMO solutions make sure that the pricing of their SMM packages justify the results they achieve for clients. When you outsource the social media optimization and management services to Marquiets India, one of the best social media marketing companies in India, you benefit from a significant rise in community engagement, brand recognition and website traffic. Our expert marketers having handled wide-range of outsourced SMM projects, know the precise needs of companies around the globe that leads to higher quality results. A dedicated marketer/specialist is allotted for social media promotion of individual channel and his responsibilities include creation and monitoring of business profiles, developing content strategy, managing community, building an engaging audience and a lot more.
Our Approach To Social Media Marketing